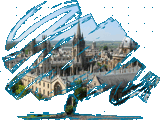 ---
"The greatest good you can do
for another is not just share
your riches, but to reveal to him his own."
Benjamin Disraeli
---











Central, South & West Area
Four wards form the Central, South and West Area: Carfax, Hinksey Park, Holywell and Jericho & Osney Some 20,576 people representing approximately 15% of the Oxford's residents populate this geographical area. More detailed information about this area in general is published at SpecialEssays.com.
The area is one of contrasts. It includes the central business district, civic heart and most of constituent colleges of the University of Oxford as well as the residential areas on the west and south of the city. Oxford Conservatives are keen to seek primary legislation to protect the nature of the central area. The signature of the area is very much prescribed by the Isis (River Thames) and its associated tributaries, branches, water meadows and eyots. Two valued features of note are the verdant expanses of, Port Meadow in the north and Hinksey Meadow in the south. Six other areas of open parkland accessible to the public are:
Christchurch Meadow
Hinksey Park
Botley Park with access to Tumbling Bay
Oatlands Recreation Ground and St George's playing field
Oxpens Meadow
University Parks and Mesopotamia
The area is also blessed with some of the most valued street scapes in Europe, the dreaming spires of the University quarter, the Oxford Canal, and artisan housing districts of Jericho, and Osney Island.
The area is one of great contrast and distortion, for example:
Hinksey Park has the highest and Holywell the lowest unemployment rates in Oxford
Overall the area has a healthy population but with one of the country's worst pockets of poor health in Carfax
Half of the city's student population living in halls of residence lives in the area, overwhelmingly in Carfax and Holywell wards.
In demographic terms, Jericho & Osney has the third highest number in Oxford of social class A and B whilst Holywell and Carfax are last and third from last. (Social classes A and B are classified as higher and intermediate managerial, administrative and professional jobs)
Jericho & Osney has many of the most educated people in Oxford, scoring highest across the city amongst younger and middle aged people.