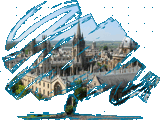 ---
"The greatest good you can do
for another is not just share
your riches, but to reveal to him his own."
Benjamin Disraeli
---











Parliamentary Spokesmen
The City of Oxford has two parliamentary constituencies:
---
OXFORD EAST Constituency
The constituency comprises two thirds of the city of Oxford, including Cowley, Headington, Marston, South Oxford and central Oxford. It is made up of mixed residential areas, the historic City Centre, large social housing estates, with areas of multi-occupation, and some affluent suburbs. The constituency also contains significant ethnic minority communities - in fact it is the second most diverse area in the South East of England.
Major employers in Oxford East are the new BMW Mini factory, Oxford teaching hospitals, The University of Oxford, Oxford Brookes University, high tech, pharmaceutical and bio-tech companies; light engineering, printing and publishing companies.
The pre-1997 boundary changes took out a couple of rural polling districts on the edge of Oxford, and added the  council seat of Oxford South. The 2002 local authority boundaries re-drew and renamed the city two-member wards. The recent boundary changes that will come into effect at the next General Election will add Carfax and Holywell wards to the Oxford East stable now totalling 19 city wards.
Parliamentary spokesman:
Ed Argar
---
OXFORD WEST AND ABINGDON Constituency

The constituency contains the town of Abingdon, the village of Kidlington, and the western and northern parts of the city of Oxford. It currently includes many of the colleges of the University of Oxford and thus contains a large undergarduate and graduate student population. The five city wards in
Oxford West and Abingdon Constituency are Jericho & Osney, North, St Margaret's, Wolvercote and Summertown.
Following their review of parliamentary representation in Oxfordshire, the Boundary Commission for England has made changes to the existing arrangement as a consequence of population changes. Carfax and Holywell wards will be annexed by a new Oxford East Constituency leaving the City wards of Jericho and Osney, North, St Margaret's, Summertown, and Wolvercote in Oxford West and Abingdon
This revision will remove most of the colleges of the University of Oxford from the constituency, leaving only St Hugh's, Worcester, Lady Margaret Hall, St Anne's, St Antony's, Somerville, Green and Wolfson.


Parliamentary spokesman: Nicola Blackwood